Bee Kind™ - Beeswax Leather Upholstery and Leather Couch Conditioner
Product Description
Bee Kind™ - Beeswax Leather Upholstery and Leather Couch Conditioner




A 100% natural Beeswax and Carnauba wax formulation with pure essential oils of Tea Tree, Sweet Orange, Lemon & Eucalyptus essential oils. When applied 
to leather, the product deeply penetrates the surface, coating each individual fiber with a balanced application of natural oil, feeding the leather and making the 
leather much softer. 

The wax revives older leathers that have become very hard, brittle and dried out and p

revents leather and stitching from deteriorating.

 
Beeswax and Carnauba wax are natural lubricants and protect leather from harsh elements, forming a protective wax barrier on the surface of the leather so the 
leather lasts longer.


There are no neurotoxic petroleum by-products, no solvents, turps and no artificial fragrances in our homemade special recipes. Every ingredient is renewable, 
100% biodegradable, non-flammable and earth-friendly. Create a healthier home and use a product that is safe for your family, your health, and the 
environment.


Easy to apply:

 Just softly wipe on with a cloth! 

To get the best results: Rub a very 'thin coat' of the conditioner in a circular motion, covering the entire 
surface and let it settle for about 10/15 minutes, let absorb and dry, then optionally buff the leather with a soft cloth to bring a shine to the surface. You can 
repeat for extra conditioning. Non-greasy formula. The product spreads and penetrates very easily, and therefore is very economical to use.


You can use your hands without fear of harshness or toxicity to your skin. 

Leather is a skin with fibers and pores, that requires proper natural lubrication and 
needs to breathe. Because leather no longer has a body to provide proper natural oils, we must provide these oils for it. When applied to leather, the wax deeply 
penetrates the surface, coating each individual fiber with a balanced application of natural oils making the leather much softer. This wax revives older leathers 
that have become very hard, brittle and dried out.
Does not stain clothing, nor make leather slippery. Not for use on suede, or other unfinished leathers.


We guarantee you will be very impressed at the impeccable finish and the long-term benefits of using this quality superb wax. 
 "Hi - just wanted to send you a quick message to tell you I am so impressed with your products. I recently purchased your leather furniture beeswax polish 
for our lounge suite, which it worked so well on. Also used on my favourite old boots that I thought had seen better days and was off to go and buy some 
cheap boot polish for. I thought I would give it quick try on them. WOW! It even restored the colour" - Anna Rose Bland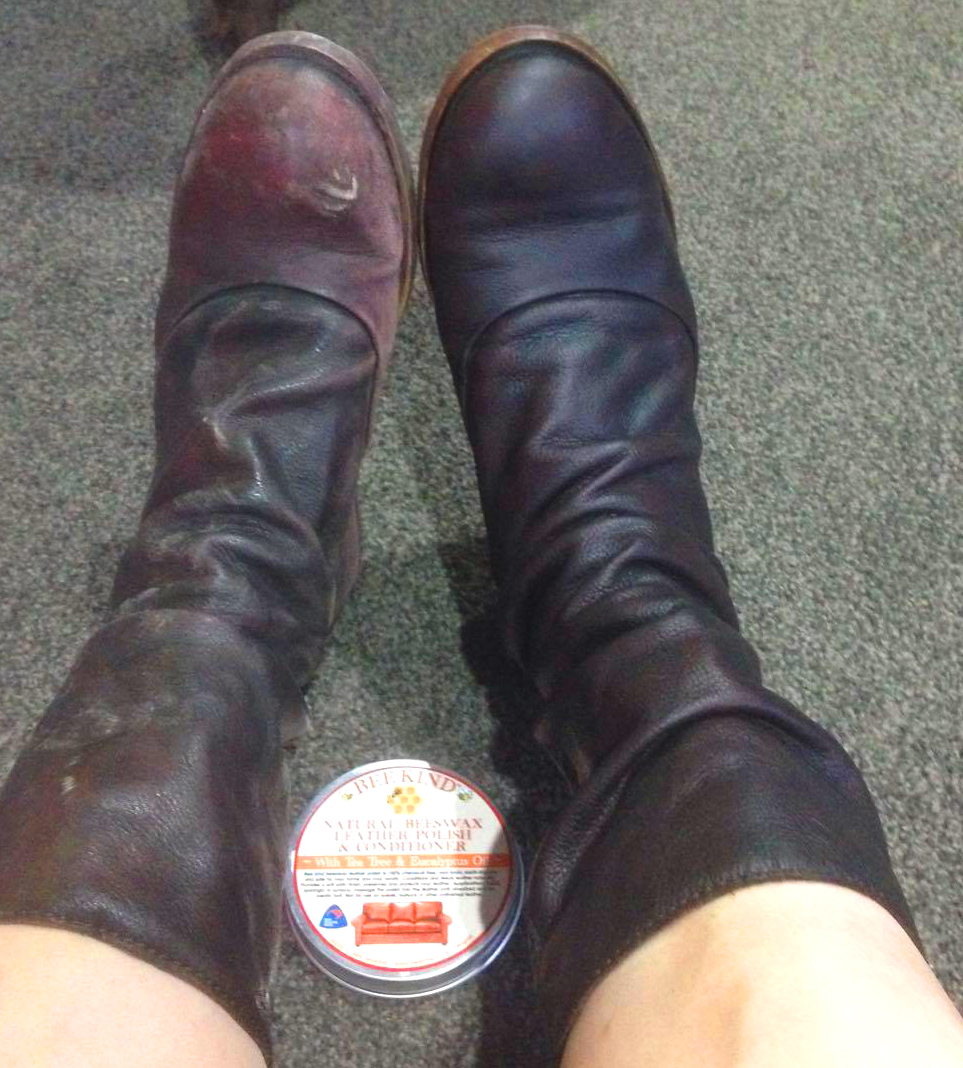 Find Similar Products by Tag
Product Reviews
Write Review
Leather conditioner

Posted by Unknown on 25th Jan 2020

Nice smell and it works

Furniture too!

Posted by Fran on 25th Nov 2019

Excellent product. Replenished the leather on our couches. Great job on wood as well!

Great leather product

Posted by Lisa on 5th Mar 2019

Love this for the leather couch. Couch feels so nice again and looks great too. Also like that it is not chemically smelling. Also works really well on boots and shoes, making them look new again.

Great stuff

Posted by Roger on 9th Jun 2018

We recovered our leather couch because we didn't care for it well enough. We now use beeswax and it is now still like brand new and it's been nearly 2 years since recovering. Great product easy to buy and prompt delivery.

Amazing product

Posted by Pauline Stones on 31st May 2018

Living in England I had to import this wonderful product as I could not find a supplier in the UK, having used all my supply bought on a recent visit to New Zealand. It really is a saviour for our leather sofa and armchairs and the difference it makes to the look and feel of the leather without stickiness is amazing and it smells nice too!

East to use

Posted by karyn on 7th May 2018

Used this on couches was easy to apply and buffed up nicely. Looking forward to less cold.

Leather polish

Posted by Marina on 7th Nov 2017

Just wanted to let you know that I love this product! It does an amazing job and I will definitely be buying more of it in the future! Thank you. Marina :o)

kitten swipes gone!

Posted by Emma on 7th Nov 2017

Hi there, have used this product on my couch today as the two Burmese munchkins have swiped and scratched it. I wish I could upload the before and after pictures to this review. Looks amazing, like new again. Thanks!!!