Bee Kind™ - Beeswax & Carnauba Shoe Polish & Conditioner
Product Description
Bee Kind™ - Beeswax & Carnauba Shoe Polish & Conditioner 

 


A natural quality blend of carefully selected plant oils, certified essential oils of orange & lemon, plant oils, unrefined Beeswax, and Carnauba wax to protect & 
deeply condition leather shoes. Naturally waterproofs, conditions, and protects your leather shoes while providing a brilliant natural shine. The essential oils of
citrus act to deter mold & mildew.


There are no neurotoxic petroleum by-products, no solvents, turps and no artificial fragrances in our homemade special recipes. Every ingredient is renewable, 
100% biodegradable, non-flammable and earth-friendly. Create a healthier home and use a product that is safe for your family, your health, and the 
environment.


Easy to apply: Apply the Beeswax polish with a soft polishing cloth. Make sure that the polish is fed into the joint between the sole and the upper of the boot 
and along any stitch lines. A fast action is preferred as this generates heat that aids the penetration of the polish into the leather. To finish off this stage, buff 
the surface of the boots with a soft cloth and this will produce a protective and gorgeous shiny finish.


Leather is a skin with fibers and pores, that requires proper natural lubrication and needs to breathe. Because leather no longer has a body to provide proper 
natural oils, we must provide these oils for it. When applied to leather, the wax deeply penetrates the surface, coating each individual fiber with a balanced 
application of natural oils making the leather much softer. This wax revives older leathers that have become very hard, brittle and dried out.


We guarantee you will be very impressed at the impeccable finish and the long-term benefits of using this quality superb wax.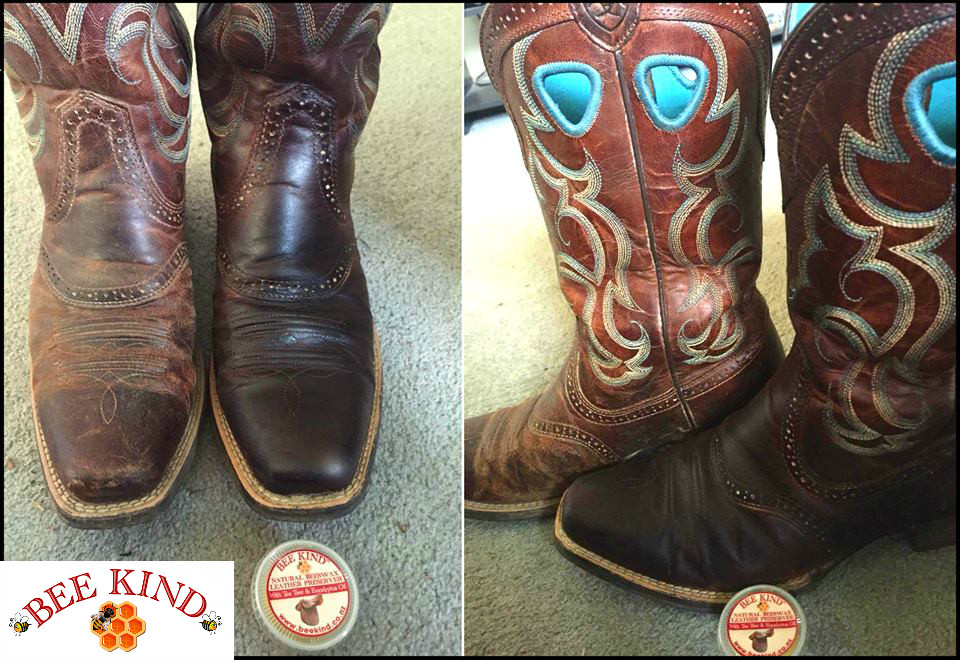 Find Similar Products by Tag
Product Reviews
Write Review
Reakky looks after my shoes

Posted by Steve Foster on 5th Apr 2019

great polish for mu brown boots means i can retain the original leather colour whilst moisturising and protecting the leather. beware though our dogs have chewed a couple of pairs of shoes now, the lemon, orange and beeswax flavoured leather seems to be appealing to them.

Excellent product

Posted by Catherine on 10th Aug 2018

I've used this shoe polish for a few years now and love the way it absorbs into the leather. It really is skin food.

good service and quality product for a change!

Posted by Kelly Martin on 7th Nov 2017

You beeswax polish is great. My package arrived in the mailbox the next day. Yummy smell! And it worked wonders on my leather boots. They were revived again. And thank you for the extras, it was a lovely afterthought.



lovely products

Posted by Adrienne Henderson on 7th Nov 2017

I used this on all my leather shoes. The results were impressive especially for those with more natural leather finishes. My boots are rejuvenated.