Bee Kind™ - Beeswax Furniture Polish & Preserver with Orange & Lemon
or make 4 interest-free payments of fortnightly with
More info
Product Description
Bee Kind™ - Beeswax Furniture Polish & Preserver with Orange & Lemon




Using pure certified essential oils of Sweet Orange & Lemon - NO artificial fragrances. Enjoy the beautiful scent of Citrus and Beeswax throughout the entire 
home for days. Also a great natural bug deterrent.


Bee Kind Beeswax Polishes for Indoor & Outdoor Furniture are simple and solvent free, made with pure NZ Beeswax, high-grade Carnauba wax, and certified 
essential plant oils. Bee Kind beeswax furniture polish has the consistency of a lotion and is very easy to use, there is no hard buffing, just apply along the grain 
and wipe! A long-lasting solution with a lingering natural scent of Beeswax in the home.


There are no neurotoxic petroleum by-products, no solvents, turps and no artificial fragrances in our homemade special recipes. Every ingredient is renewable, 
100% biodegradable, non-flammable and earth-friendly. Create a healthier home and use a product that is safe for your family, your health, and the 
environment. Food safe.




Note. Keep out of the sun.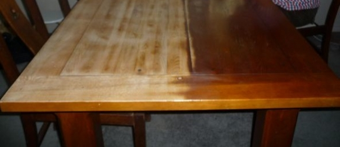 Find Similar Products by Tag
Product Reviews
Write Review
Excellent product

Posted by Unknown on 28th May 2019

I use this product in the final stage of a restoration project and find it easy to apply, has a pleasant smell, and acts as a protectant for the wooden item.

Beeswax Polish

Posted by Sue on 29th Mar 2019

Bought this for my mum to use on her kauri chairs and table. She loved it and said it was excellent to use - lovely smell as well.

Super Product

Posted by Vanessa on 7th Nov 2017

Hi, I just wanted to let you know how happy we are with the furniture beeswax. Our oak table looks absolutely stunning and the smell of honey and lemon as I type is wonderful! What a fantastic product.

Thought I'd send you a before and after shot.

Thanks again!
Vanessa

Thank you

Posted by Jan Myocevich on 7th Nov 2017

Just wanted to thank you, my beeswax polish arrived today. I have polished my table and furniture and it smells and looks fantastic. I will be stocking up on some more. I also love your website.
Kindest regards
Jan

Beeswax Polish

Posted by Marlene on 7th Nov 2017

I just received your polish and have wet wiped the table top, dryed it off and have applied the first lot of furniture polish. It looks really good and promises to be quite fine for this table and will do nicely for my library table which has a leather inlaid top.
Well done! I wish you every success.
Sincerely,
Marlene

Wood Polish

Posted by Tony on 7th Nov 2017

Hi, I purchased your Bee Kind furniture polish and I have been using it on my shoes, furniture and all my leather shoes. It smells lovely and it's nice to know there are no chemicals in the formula. It provides an amazing shine to all of my gear and gives everything a lovely surface sheen with protective and natural smells. Thank you, it's fantastic!