Bee Kind - Finisher's Formula for Antiques, Woodturning and Craftworks
Bee Kind and co.
Bee Kind - Finisher's Formula for Antiques, Woodturning and Craftworks

NOW IN A BRAND NEW 250G & 500G TIN! SAME GREAT FORMULA, BETTER PACKAGING. MORE WAX.
Using pure certified essential Manuka Oil - NO artificial fragrances. This is a perfect choice for restoring antique dining tables, restoring wood, or for use on 
antique kitchen surfaces in older homes without using any nasty chemicals


Enhance the quality finish on your wood-turnings, antiques, and craft-works. A wonderful, durable combination of NZ Beeswax and high-grade Carnauba wax 
that brings out the natural grain and beauty of wood. The advantages of using this wax are that it is entirely food safe and can be used safely over other finishes. 


Application: Apply a thin coat of wax to the timber with a cotton cloth, let sit for ten minutes so the oils can penetrate the surface then either with a rotating 
cotton buff/mop or a simple soft cotton cloth, buff to a warm luster. Will last for a long time, with a lingering scent of beeswax and essential certified plant oils 
of orange & lemon, Manuka & Tea Tree


For Wood-turning on the lathe:

  Apply on the lathe at a suggested speed of 800rpm. With a lint free cloth apply firm pressure until an even shine appears.


There are no neurotoxic petroleum by-products, no solvents, turps and no artificial fragrances in our homemade special recipes. Every ingredient is renewable, 
100% biodegradable, non-flammable and earth-friendly. Create a healthier home and use a product that is safe for your family, your health, and the 
environment.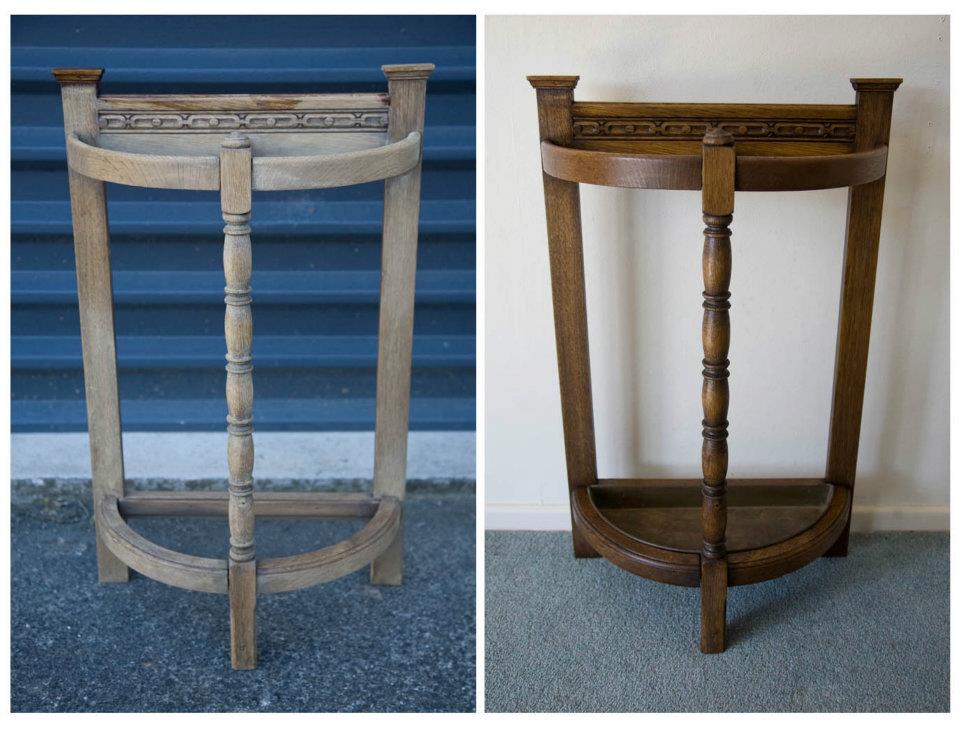 Reviews
Got it to try on bent wood rings I make. The first project was a necklace stand made from old Rimu, pine Dowell and an unknown tropical hardwood, The finished result is awesome. The Rimu just glows and the grain pops. This contrasts with the Pine dowels that have darkened a tiny bit and glisten. The heavy hardwood has a pinkish look and the wax highlights it's strange grain structure. I have yet to do some rings but just know it will be good

Beeline furniture product

Best product I've found for refinishing old furniture, oak in particular. Very easy to apply rub on polish off. Gives an excellent finish ... Without having to be an expert

Used this for years on our natural wood kitchen - a very good product

Thank you this is the best finishing wax we have ever used , we will be ordering more , plus fast delivery.

Bee Kind Finishers Formula

This is the first time I have tried this product and have found it to be excellent. It is very easy to apply, even in the cooler months when it goes a bit harder. It builds up a lovely tough finish that can easily be polished to a very good shine. It is also very economical as it goes a very long way. Would definitely recommend it to anyone wanting a good quality finish at a reasonable price.

Bee Kind Finishers Formula

Have changed from an Australian product to Bee Kind and am very pleased with the finish. Easy to apply and polish to a very good finish. Will definitely buy again.

Love this wax on antique furniture

I have to say I am really impressed with this wax. I have used it on antique English Pine, Kauri, Oak, Mahogany and Rimu furniture and have been happy with the results on all of them- specially on the old English pine dining chairs. I am definitely happy to recommend this product.

I had A block of Tawa wood hand made into a beautiful food platter. The BeeWax Natural Finisher polished the Tawa wood beautifully and enhanced the Tawa woodgrain giving it a professional finished

BEST furniture polish EVER

Bought a very old rimu coffee able that hadn't been sealed. Wow, what a beautiful piece of furniture after using Finisher's formula! I also use this superb finish on my blackwood bowls and decorations bought in Africa. I'm a repeat, thrilled customer who won't ever consider using anything else. .