Bee Kind™ Beeswax Waterproofing Bar - Buy 2 get 1 FREE
Product Description
Bee Kind Beeswax Waterproofing Wax Bar - Heavy Duty - 100grams


THIS LISTING IS FOR ONE BAR

- ADD TWO TO CART & GET ONE FREE - Free bar will be added into your cart 
automicatically.

*NOTE: Please do not use these bars if you are allergic to bees. The heating process may attract a few bees, as bees can detect the smell of beeswax from miles 
away. 

Please apply the wax correctly to the fabric when heating/curing- more info below. We have found an iron on a low setting to be the best application, but please 
use with caution. Can also be used in 'hot' direct sun to melt and cure. Don't hesitate to contact us if you have any trouble with your waterproofing bar or any 
questions. 


This product is NOT a flammable liquid, so is safe to use and to get on hands. Plus an excellent choice for those that suffer from severe asthma or skin 
disorders. There are no toxic fumes/chemical particles that can be inhaled or ingested. 


We devised the idea of a bar as if you attempted to melt down pure natural waxes, by the time it hit your paint brush it would have hardened, before even 
getting to the cover. We do not condone melting and then thinning with turpentine as turpentine is a highly flammable liquid with acute oral toxicity 
(as specified in its data sheet), it is also highly combustible- PLEASE do not use turpentine on your animal covers. If you wish to thin our bars down, please use 
an oil. 


Our beeswax heavy duty water repellent and protecting wax is made from the highest quality Beeswax and blend of waxes. A great option for heavy duty 
waterproofing projects like outdoor equipment, float and tent awnings, tent seams, jackets or pants, bike wear, back packs, hats, synthetic and canvas horse 
covers, horse saddle blankets, trekking boots, jeans, canvas shoes, fishing & hunting gear, rucksacks, tents and hiking boots. Any surface that requires a heavy 
duty waterproofing surface. Easy to use. Can be used in hard to reach seams and stitching. For horse covers, does both synthetic and canvas. Wax needs to be 
heated and cured into fabric for high-quality results. 

You can also just use one bar and waterproof the top seams and all the stitching (to protect 
stitching) where the water really hits in a heavy rain downpour if you want more breath-ability in heavier horse covers.
We recommend allowing up to 2 bars per 5ft cover, but one may be sufficient.


Application
1. First, ensure that the product you are applying this to is clean and dry. 

Use a cloth to hold the bar and rub back and forth 

over the surface, which creates the 
friction needed to loosen the wax.
2. Ensure the wax has been SPREAD EVENLY over the surface. 
3. HEAT the wax into the fabric using either:


• A heat gun




• A hair dryer on a HIGH heat setting (for smaller garments).




• An iron set to a LOW SYNTHETIC setting.


4. If applying to a large surface area such as a horse cover, for the best 

results apply a second coating of the wax bar straight after you have 

heated thoroughly 
the first application.
5. If the look of the wax is white and it is sticky to touch it has not been cured into the fabric. So it won't be waterproof. So re-apply heat using the above 
methods.
6. Leave overnight to dry and cure.


You can view our videos on applying the wax by searching for Bee Kind NZ in Youtube.


NOTE: To wash the wax out of your fabric, set the wash temperature to 60 degrees heat and wash twice. 


For larger clothes or in-between covers, you could place garments into tied up large black plastic rubbish bags. Then place into the dryer for 10min increments.
 
It's recommended that you re-apply wax every year or second year. Waxing fabric, will darken the color of a fabric and give it a light shine. As a general rule of 
thumb, plan on using more wax to treat un-waxed or oiled fabrics. Waxed fabrics are already saturated with wax, so will not absorb as much as an untreated 
fabric. Our Bee Kind wax bars are excellent for one-sided waxing because it creates a seal on the top layer of the fabric. Great for quickly re-proofing factory 
waxed and oiled garments like oilskins. Our wax is melted down when applied, thus permeating deeper into the fabric and yielding a more factory-waxed 
appearance. This is ideal for multi-layered coats and jackets, or for re-proofing factory-oiled fabrics.


Note for Horse Covers: Not ideal for thin cotton white cover sheets - It will attract soil on the sheet when the horse rolls, due to the 
nature of the beeswax in the wax bar as it's a waxy type substance, unless wax is melted in correctly and 

com

pletely

 

dried before use.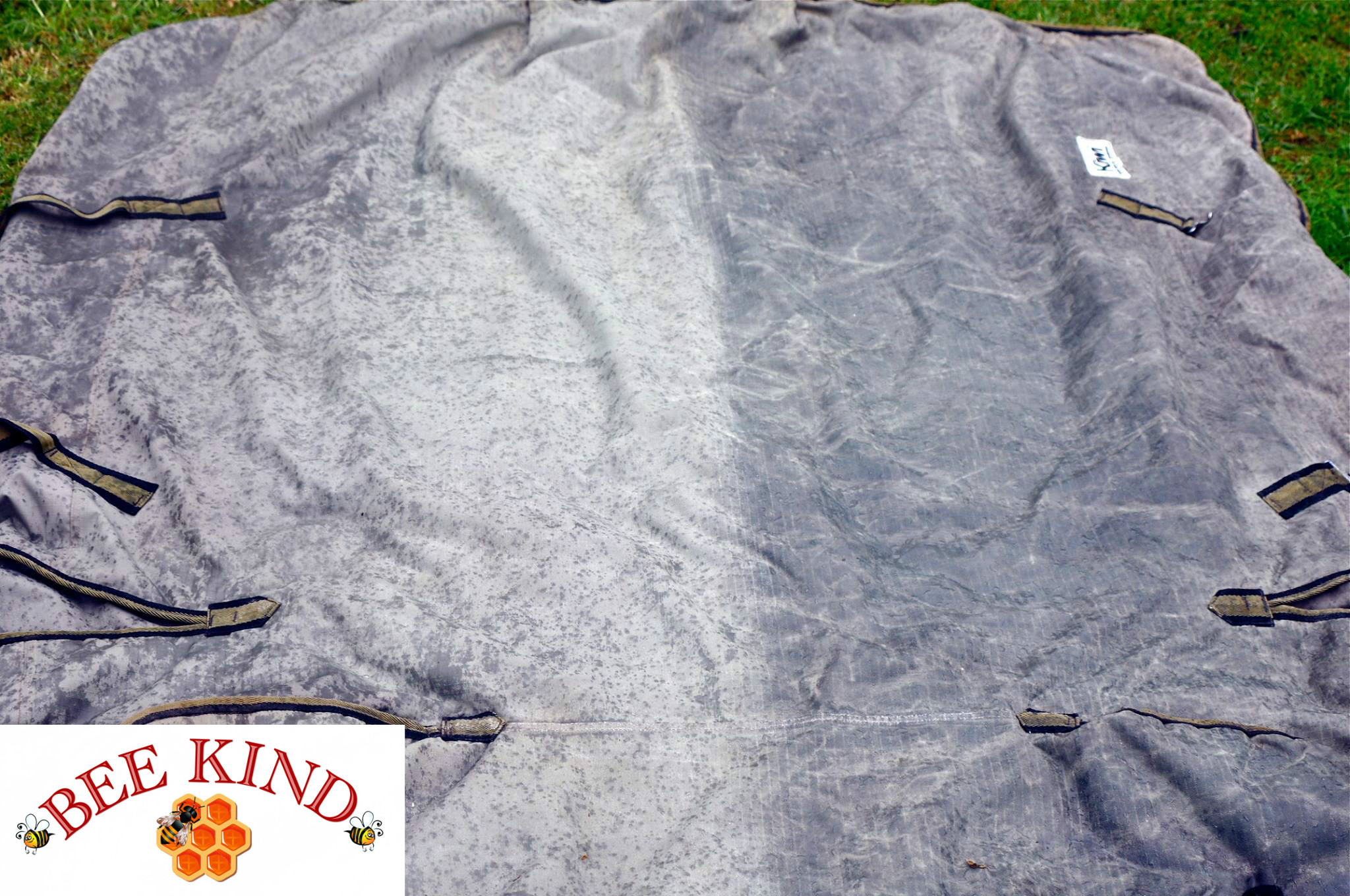 Find Similar Products by Tag
Product Reviews
Write Review
Showing reviews 1-10 of 13 | Next
Best waterproof for horse rug

Posted by RM on 30th Mar 2020

I've been using this product for 3 winters. Every time I get a new rug for my ponies I get my hot air gun my beeswax waterproof bars out - great product, lovely smell too.i have progressed to waterproofing my own jackets and making beeswax bowl covers too!

Great for waterproofing shoes

Posted by Unknown on 18th Jan 2020

Looked into getting some beeswax to waterproof some new shoes and it's great to be able to find a NZ supplier who sent this out quick and easy. Great product and easy to use.

Great Stuff

Posted by Paul on 11th Nov 2019

I have found this the best product for doing my Driza-Bone and Swandri oilskins. Makes the coats look and feel brand new and no chemicals at all. First class!!

Easy as

Posted by Ian on 17th Aug 2019

Easy to order, arrived quickly and did what it said it would. I reproofed an canvas pack. The instructions were easy to follow and I recon it's probably better than new.



Amazing!!..and...

Posted by J on 11th Oct 2018

I chucked this stuff on my canvas gorka Russian jacket and I was as dry as my mates who were in goret tex! Even though it was amazing and water bead right off. It changes the color of my jacket into a darker shade. Doesn't faze me, I think it looks better!

BRILLIANT

Posted by Denise on 14th Jul 2018

Fantastically easy to apply - has given a 2nd hand cover another chance & my other covers will last another couple of seasons now!!

Waterproofing

Posted by Rowan on 21st May 2018

such a fantastic product for reproffing synthetic rugs so horses stay dry during these very wet days! Do all my horse rugs

WORKS WELL

Posted by Aaron on 28th Mar 2018

I was looking at buying a similar product from Canada, but was glad to find this product made right here at home in New Zealand. I tested it on a bucket hat. The wax finish looks great and, now water beads up and just runs off. Looking forward to using it on some of my other gear.

Waterproofing Bars

Posted by Unknown on 17th Feb 2018

Excellent product, love the fact it's natural not chemical - lovely to use, smells great and really works!

best stuff on market

Posted by Sarah G on 7th Nov 2017

Was highly recommend this by other riders. Have tried various sprays and waterproof reds. None have worked. Especially in synthetic covers. Was sceptical about this one until I tried it and it actually stopped my cover from getting wet inside. And we had lots of rain. Very happy! Finally can keep my horses dry this winter and not have my covers rot. Thanks you. Brilliant stuff!
Showing reviews 1-10 of 13 | Next