Bee Kind™ - Beeswax Leather Preserver with Tea Tree and Eucalyptus
Product Description
Bee Kind Leather Preserver


A 100% natural Beeswax and Carnauba wax formulation with pure essential oils of Eucalyptus & Tea Tree - to waterproof, soften, preserve, & feed leather 
keeping it soft, nourished & durable. Eucalyptus & Tea Tree are antimicrobial and antibacterial so they naturally inhibit mold and mildew and prevent leather 
and stitching from deteriorating. Beeswax and Carnauba wax are natural lubricants and protect leather from harsh elements, forming a protective wax barrier 
on the surface of the leather so the leather lasts longer.


There are no neurotoxic petroleum by-products, no solvents, turps and no artificial fragrances in our homemade special recipes. Every ingredient is renewable, 
100% biodegradable, non-flammable and earth-friendly. Create a healthier home and use a product that is safe for your family, your health, and the 
environment.


Easy to apply:

 Just softly wipe on with a cloth! You can use your hands without fear of harshness or toxicity to your skin. 

Leather is a skin with fibers and 
pores, that requires proper natural lubrication and needs to breathe. Because leather no longer has a body to provide proper natural oils, we must provide 
these oils for it. When applied to leather, the wax deeply penetrates the surface, coating each individual fiber with a balanced application of natural oils making 
the leather much softer. This wax revives older leathers that have become very hard, brittle and dried out.


Great for any leather used in the outdoors to protect from water, mold, mildew and dampness, great for vinyls, footwear, clothing, saddlery and harness 
equipment, leather lounge suites and upholstery, handbags, belts, motorcycle leather, boots, leather jackets, leather purses, leather wallets, leather bags and 
any old brittle leather that needs restoring and reviving. 


We guarantee you will be very impressed at the impeccable finish and the long-term benefits of using this quality superb wax.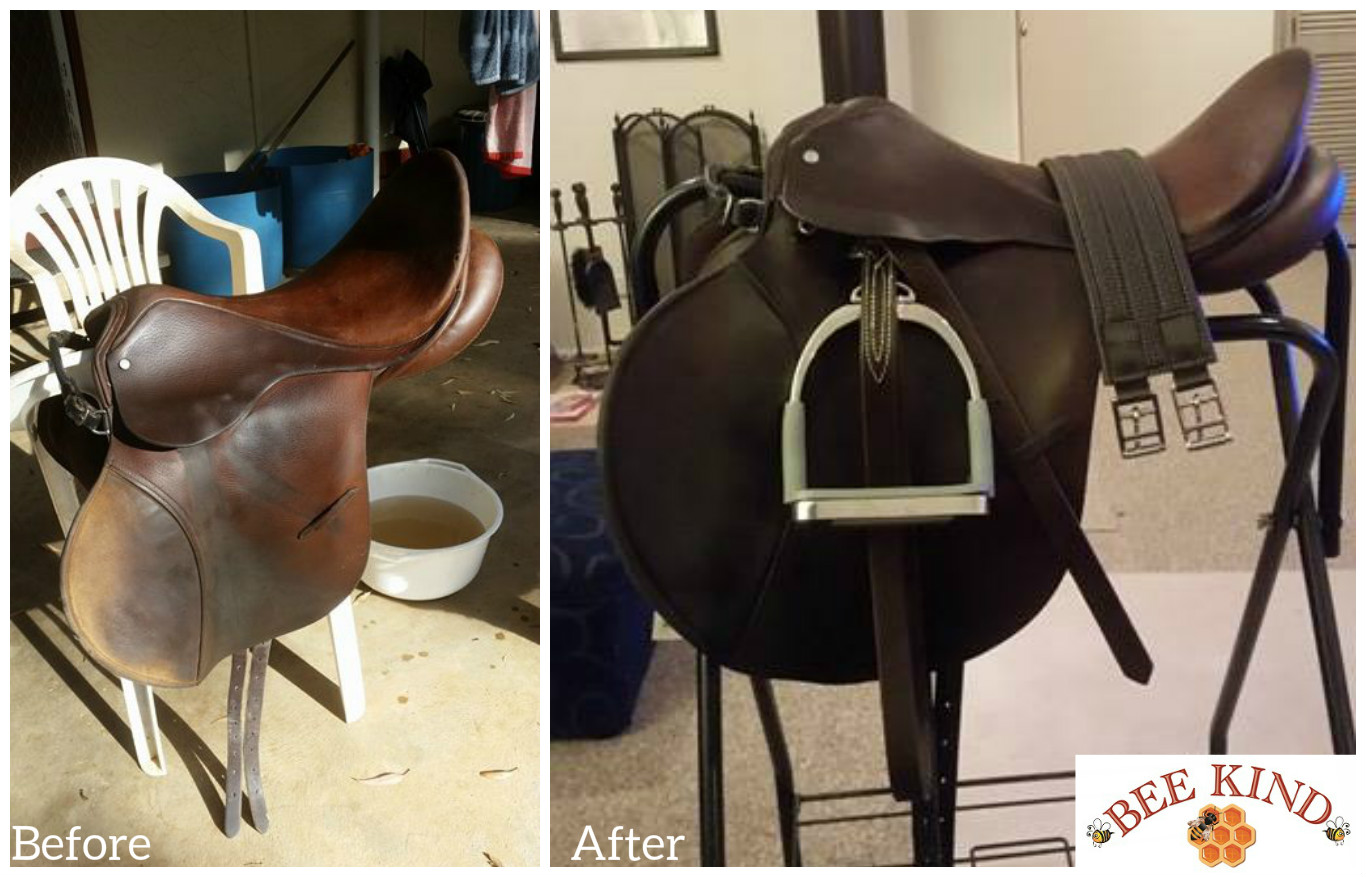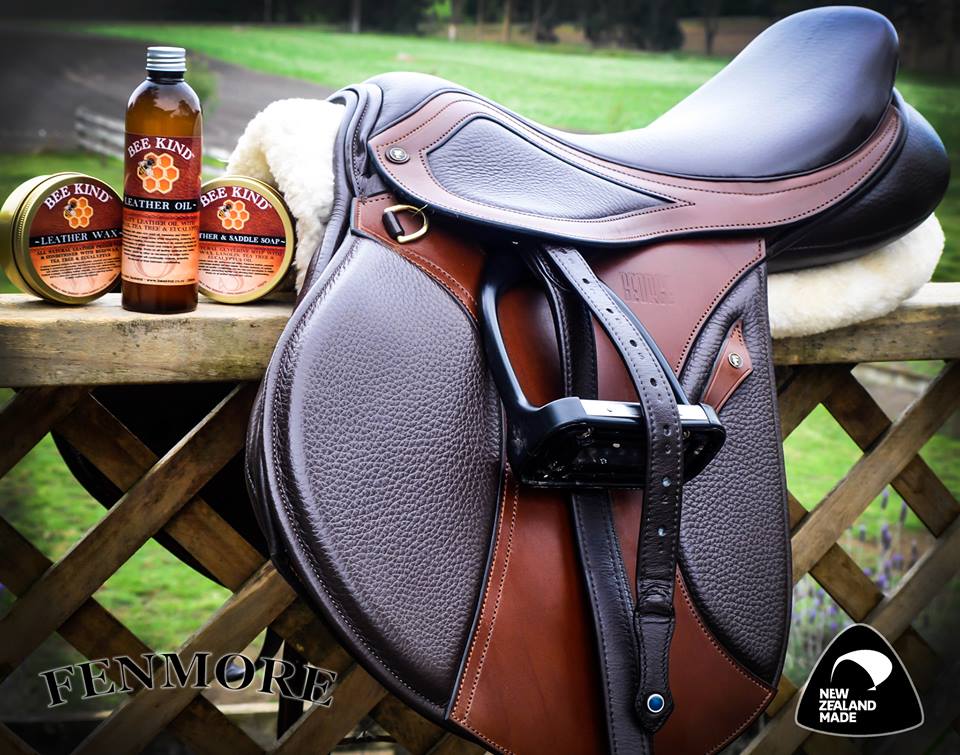 Testimonials: 
"I would like to share my experience and also endorse Bee Kind natural beeswax leather preserver and conditioner. I have been hand making saddles and 
other leather items since 1978, my saddles are regarded as the Elite of saddles available in Australasia. My saddles have been in the Olympic Games and 
Harrods of London. Over the years I have used many leather conditioners and even resorted to making my own as I couldn't find anything that was soft 
and easy to apply, until I found Bee Kind. I find it the best on the market. Easy to apply, the leather is more supple and it smells fantastic. I recommend it to 
anyone for leather. Will be the only brand I use."
Graham Moore - Saddler (Hand Crafted Saddles & Repair Since 1978)
FENMORE LTD - SADDLE MAKERS OF DISTINCTION
WAITAKERE, NEW ZEALAND www.fenmore.co.nz


"The search is finally over! Bee Kind beeswax leather preserver and conditioner is the BEST leather cleaning product ever, no argument! It's effective, 
non-greasy, not sticky, smells brilliant and leaves both your gear and hands soft, smooth and nourished. Since it arrived for a product trial last Autumn, 
there's been not a trace of mold or mildew anywhere." 
Tried and Tested: Rowan Dixon (Editor) - Publication: Fairfax, NZ Horse & Pony, January, 2010


Bee Kind leather preserver is recommended and endorsed by Jane-Taylor Young from www.herdword.co.nz - A Horsemanship™ Programme covering 
horse psychology and behaviour. The Herdword Performance program links the psychological and physical aspects of the animal you ride in order for you 
to maximise your horse's performance safely and with confidence. 
 
Bee Kind Leather preserver is recommended and used by The Cardrona NZ Family friendly Horse Trekking and Quad Biking tours of the Cardrona Valley, 
New Zealand www.thecardrona.co.nz
"The Cardrona" sightseeing activity center offers first class family friendly guided tours of the stunning Cardrona Valley, between Wanaka and Queenstown
in the South Island of New Zealand. It is situated right at the base of the Cardrona ski field. Only a 45-minute picturesque drive over the Crown Range from 
Queenstown or 20 minutes from Wanaka.


Find Similar Products by Tag
Product Reviews
Write Review
Divine!!!

Posted by Hayley on 23rd Aug 2019

I cleaned all of my horse gear then used the Bee Kind Leather Preserver and its is divine! It has left everything looking lovely and renewed. It all feels very soft and supple! Really happy with the product!

Brilliant

Posted by Unknown on 16th Aug 2019

I have used this product for many years now and highly recommend it. Easy to use and makes the leather really nice and gives it a good shine.

Great natural product!

Posted by Bryan on 16th Sep 2018

This wax is great for a variety of tasks. I use it on leather and to waterproof canvas.

FANTASTIC

Posted by Denise on 14th Jul 2018

Brilliant multi-purpose product!! Protects my saddlery & proofed & suppled my new work boots - no blisters this time!!

Best product ever!

Posted by Unknown on 12th Jun 2018

Used on my very stiff bridle and it made the leather soft and supple overnight. An easy to use product, not at all greasy. Highly recommended for saddlery.

great product

Posted by Beth on 25th Apr 2018

I used this on a second hand saddle i bought which smelt a bit like mildew. It got rid of the smell and brought the saddle back to life

Wonderful product

Posted by Paoloj on 20th Feb 2018

i was searching for a product that would preserve my boots and my leather watch straps. Then I found this product. I'm so impressed, coz it does not only conditioned the leather it also makes it shine. I would definitely buy again.

Awesome Wax

Posted by Jo Anderson on 7th Nov 2017

Great thank you. Very nice product, does what it says it will do! Best I've ever used on my leather riding gear. Love the smell and it really conditioned my english leather saddle and bridle. I will be telling others! And thank you for the extra gift!

leather preserver

Posted by Amelia Harvey on 7th Nov 2017

Great service! beautiful product, amazing smells, wonderful packaging. Love it Thanks :)

leather wax

Posted by Nat on 7th Nov 2017

What an awesome product!!! Really easy to apply, well taken up by a couple of pairs of leather hunting boots - very effective waterproofer. Great product with excellent communication, would definitely buy again!